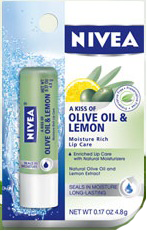 Starting today at 1PM EST/12PM CST you can request a FREE Nivea A Kiss of Olive Oil and Lemon Lip Care for the first 1,000 people!
Nivea will be doing this each day this week, so you will be able to get one this week!
Every day  at 10 AM EST they will announce the time for the giveaway for that day.
I will post a 10 minute warning on my Facebook page
Let me know if you get one!
Anything to Add? Leave a Comment!