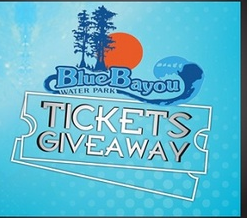 If you live in South Louisiana near Blue Bayou (outside of Baton Rouge off I-10), then South Louisiana Residents- Enter to Win a Pair of Blue Bayou Tickets Giveaway!
Every weekday WGMB Fox-44 is picking one lucky winner who will get two passes to Blue Bayou Water Park! Your last chance to win is June 29! This is the Baton Rouge Fox Station (not the one in New Orleans which is Fox-8)! I know I would love to win Blue Bayou tickets as it is so hot already this summer!
Enjoy and sorry but this is more a local giveaway. I need to help my my fellow cajuns when I can.
Thanks Nikki for the alert! 🙂
Anything to Add? Leave a Comment!