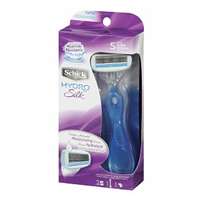 Ok guys. Many beginners feel intimidated by trying to learn all the lingo and how to maximize their savings at CVS!
It's really easy but here is a great starting point if you are just beginning and you don't have any ExtraCare Bucks.
I went to CVS today to get my coupons from the red machine! Out popped a $5/1 Schick Hydro Silk Razor for women CVS coupon!
Combine it with the $4/1 manufacturer coupon and get back $3 in ECB which means it's FREE and you will make $3.00!
If you don't have any ECB's (extracare bucks) then you can still get the razor completely FREE and out will pop a $3 ECB for your next purchase. YES, you can make more than one purchase.
Here is the breakdown:
Buy 1 Schick Hydro Silk Razor for $8.99
Use $4/1 Schick Hydro Silk Razor manufacturer coupon
Use $5/1 Schick Hydro Silk Razor CVS coupon (swiping your card at the red machine)
Total is FREE and a penny overage!
Out pops a $3 ECB for your next trip and it's completely FREE!
Friday there is a $5 off $15 purchase coupon popping out the machine! I am waiting to buy my razor tomorrow.
If they have the Engery shot- $4.79
Colgate Toothpaste- $2.49
Silk Razor- $8.99
Total- $16.27
$5/15 (always use first)
$4/1 Silk MFR
$5/1 Silk CVS
75 cent Colagte Toothpaste coupon
Grand Total- $1.52 plus tax!!! Get back $9.29 in ECB's!!!
Anything to Add? Leave a Comment!