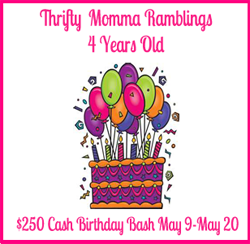 Thrifty Momma Ramblings is turning 4 years old on May 12th! I'm throwing a party so please help me celebrate! I am giving away $250 CASH through paypal! Who doesn't need more money? This will be open to all 18 or older world wide! I didn't want to exclude any of my wonderful fans. My party starts on May 9th 8PM CST and ends on May 20th at 11PM CST!
There will be 4 winners:
Grand Prize: $100 Cash
2nd Prize: $75 Cash
3rd Prize: $50 Cash
4th Prize: $25 Cash
These great bloggers have teamed up with me to help celebrate my birthday!
Capri's Coupons; Chimere Coupon Queen; Read. Write. Mom!; Coupon Queen of Texas; Giveaway Promote; Miki's Hope; Angie's Wraps; Central Florida Cakes
Use the rafflecopter to enter this great giveaway. To get the 25 points for Facebook then you have to like all the pages. Same for Twitter. There are only 9-10 links on each page so not much. I made it very easy for everyone. Thank you to all my great fans for following, reading, and visiting me. I hope you to continue to visit as I am now finished with school for the summer and will have lots of great deals, freebies, and giveaways to share! All the rules are listed on the rafflecopter.
Anything to Add? Leave a Comment!