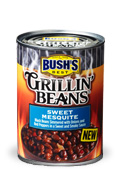 Print out a $1.50/1 Bush's Sweet Mesquite Grillin' Beans coupon on Bush's Facebook page! Click on print coupon and opens in new window! Enjoy as I'm sure this will be FREE at many stores.
Some have reported Walmart is $1.48 to $1.78 a can. If you have a LeBlanc's Food Store (ok only in South Louisiana mostly around Baton Rouge, LA) the price is $1.49 which is FREE! I am going to get 2 cans since I'm heading that way tomorrow. Publix is FREE and many stores are either FREE or under 30 cents a can.
Anything to Add? Leave a Comment!