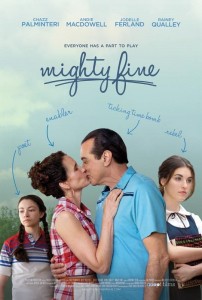 I was asked to attend an advance screening of Mighty Fine in the convenience of my own home! I am pursuing a minor in Film Studies at college so I was excited to participate in this campaign. It was also a great experience to watch with the other bloggers also viewing at the same time. There was an option to close the chat, but that made the screening more fun and it was interesting to see what everyone else thought.
Joe Fine (played by Chazz Palminteri) moves his family from Brooklyn to New Orleans, LA for his job. His wife, Stella Fine, is played by Andy MacDowell and he has two teenage daughters Maddie- Rainey Qualley and Natalie- Jodelle Ferland. The movie is narrated by the younger daughter who is Natalie. This independent movie is directed by Debbie Goodstein who based the film on her own true life events.
I debated on how to write this movie review as it brought out so many emotions for me. Within the first 15 minutes, you can begin to feel the tension build-up in the family. The mom, Stella, is always soft spoken and tends to Joe often as if to diffuse any tension that begins to arise. The oldest daughter, Maddie, is head strong and a bit defiant. As Joe begins to have problems with his business, then we begin to see his anger and how he unleashes it on his family. I will say that emotional abuse leaves scars that are hard to erase and heal. He gives lavish gifts to make-up for his outbursts, and the whole family tiptoes around him as not to set him off. It brought out a lot of raw emotions for me as I had lived through something similar. I do not want to get into the details as I have healed some of the old wounds, but some never heal. This made the movie hard to watch at times. I do have a happier ending as I am very happily married for 14 years to the man of my dreams. I was able to heal some of the past with my family.
Overall, I liked the movie as I think it is important to discuss abuse and mental health as well as anger issues. There are times that I can feel that level of anger creep up, and I have to stop and remove myself from the situation as I don't want to be that person. I do believe the cycle of violence can be broken, but it takes time and sometimes therapy.  I really feel you need to have an awarness and admit there is a problem. There were parts of the movie that seemed a bit predictable, but that could be coming from my own personal experience so I'm not sure. There is some strong cursing and I believe the movie is rated R and runs for an 1 and 20 minutes. I do recommend this movie as I feel the subject content is important to build awareness in our society and will help to encourage an open dialogue.
I loved that Mighty Fine was set in the 1970's and in New Orleans, LA. I really enjoyed the music in this film. I live near New Orleans so the location shots were very nice and much of the music reminds me of Louisiana. I really thought the actors did a great job especially the daughters. Rainey Qualley is Andie MacDowell's real life daughter! She is a very talented young lady who also sang one of the songs that roll during the credits. Jodelle Ferland is another young actress who is making a name for herself. If you have seen Eclipse (part of the Twilight series), then you will recognize her as the young vampire made to help destroy Bella. She is the one that isn't allowed to live at the end.
After the movie, we were able to participate in a live chat with Chazz Palminteri and Rainey Qualley. We were able to ask questions and they answered them using a web camera. It was interesting to see and hear them answer the questions about the movie and the making of the movie. I really enjoyed the whole experience. Mighty Fine opens on May 25th in select theaters but I know it is playing in New Orleans (of course) at the AMC Elmwood, but you can check here to see if it is opening near you.
"I participated in a campaign on behalf of Mom Central Consulting for Mighty Fine and the distributor. I received access to an online showing of the film and a promotional item to thank me for participating"
Anything to Add? Leave a Comment!