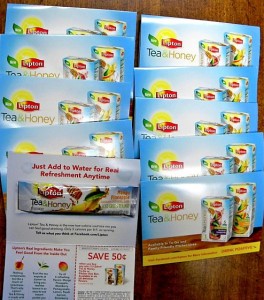 *Note: I was given a product or sample because I'm a Klout influencer. I was under no obligation to receive the sample or talk about this company. I get no additional benefits for talking about the product or company.
I just received my newest Klout perk which is the Lipton Tea & Honey To-Go packet. This is the Mango Pineapple flavor. Each packet has only 5 calories per 8oz serving. These are portable and easy to throw into your purse or backpack. Use this while traveling or for work or school. Much cheaper and healthier than hitting a vending machine or grocery store. You can also snag a free sample for yourself here.
I received 10 packets and each packet has a $0.50 cent coupon good on any one to-go or pitcher box. There are 6 flavors. I decided to give this away to my wonderful readers!
I am giving one lucky fan 10 Lipton Tea and Honey to go packets with (10) 50 cent coupons which is a total of $5.00 in coupons! The coupons expire 7/15/2012. The giveaway starts NOW and ends on Sunday May 27, 2012 at 11PM CST! This giveaway is only for US fans. Sorry but shipping is too expensive outside of the US.
*NOTE: This giveaway is not affiliated with Klout or Lipton! I am not being compensated. I wanted to host this giveaway for my wonderful fans. 🙂
Anything to Add? Leave a Comment!