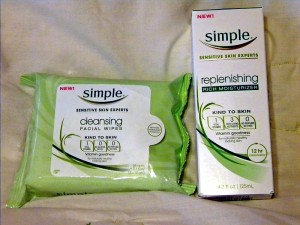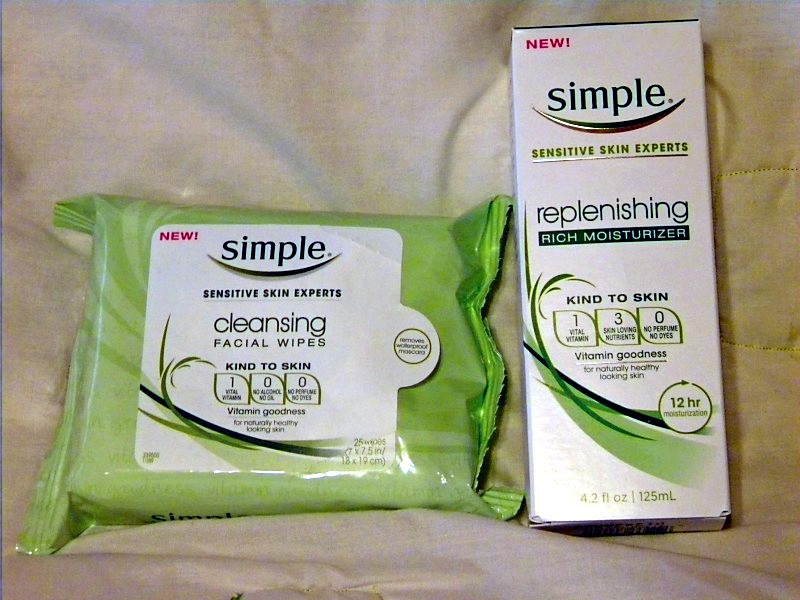 *Note: I was given a  product or sample because I'm a Klout influencer. I was under no obligation to receive the sample or talk about this company. I get no additional benefits for talking about the product or company.
I received another great Klout perk in the mail yesterday. I was really excited to receive this package of two full size Simple Skincare beauty products. Not one but two full size products were in the box. This was a nice surprise for me.
I have only recently started seeing the Simple Skincare products advertised online and in stores. The company is originally from the UK. I was intrigued to try a product that states it is free of unwanted dyes and perfumes and perfect for people especially with sensitive skin. I do find the older I am getting, the more sensitive my skin is becoming so I do try to find products made for sensitive skin.
The two products I received are the Facial Cleansing Wipes and the Replenishing Moisturizer. I tried both of these products last night. First I used the cleansing wipes to remove what little makeup I had left on my face. The wipes do not have a perfume scent at all, and were lightly moist. I have used some wipes that had a strong scent plus were very wet. The wipes are a generous size so I was able to completely wipe my face, eyes, and even my neck. I did use both sides, but it took off all my makeup. My face felt clean though I do admit not as clean as it does after using a facial wash. It did take off all my eye makeup and was not harsh or pull on my eyelids. I wear contacts so it is important for the wipe not to irritate my eyes.
Next I used the Replenishing moisturizer. It is not a thin moisturizer and a little thicker, but not overly thick. Some reviews I have read said the products are more for dry to normal skin which made their skin oily. I have combination skin and is more on the oily side especially living in a hot and humid climate most of the year. It did not feel oily or very thick and I was able to work into my skin very quickly. It felt so nice afterwards and silky.  I used it again this morning after washing my face, and it still feels nice on the cheeks.
I have to say overall I am very pleased with the Simple Skincare products. I will probably not buy the wipes again, but I am definitely going to purchase the facial wash.
Have you tried Simple Skincare products yet?
Anything to Add? Leave a Comment!