This post brought to you by Whitney Farms. All opinions are 100% mine.
I love to garden as it provides me with fresh air, exercise, and of course fresh fruits and vegetalbes to feed my family. I also strive to keep it organic as I don't want unwanted chemicals and pesticides on my food. I was excited when I learned about Whitney Farms® as it is organic plant food to help boost my garden's ability to produce more food, and also will help to keep my plants healthier. As you can see my garden is looking very lush and the vegetables are coming in quite nicely.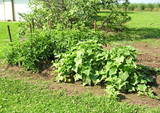 Whitney Farms® has 25+ years of gardening experience and has improved their products to have low to no dust which is great as nothing is worse than pouring out food that will blow in your face. No manure smell and is easy to apply. It contains beneficial microbes which will help to make your soil easy to work and accepts water easier. I love using organic soil in my garden to make it the very best I can which makes the plants produce the very best vegetables and fruits for me.
I know how expensive it is buying plant food so Whitney Farms has a $3 off coupon to help save money! What will you grow with Whitney Farms organic plant food?
Anything to Add? Leave a Comment!