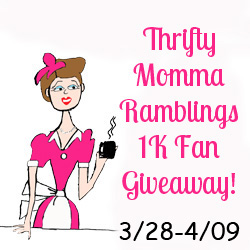 You guys really like me! I wanted to hold a cash giveaway as a way to thank all my new and old fans for following me on both Facebook and Twitter. I now have over a 1,000 Facebook fans as well as over 1,200 Twitter fans! I'm so excited and I appreciated all of you for following me. I did promise all my readers new giveaways. I did not have time to throw together a huge event with lots of big prizes and other bloggers. I am planning a BIG birthday bash for the blog. Can you believe Thrifty Momma Ramblings is turning 4 on May 12th! Me either as it does not seem that long. I am working on putting that giveaway together where I will have big prizes and joining other wonderful blogs to help me celebrate. Do not miss out as I promise it will be a great giveaway!
My giveaway starts NOW and will end on April 9th 11PM CST! It says April 10th 12:01AM EST on Rafflecopter, but it's basically until close to midnight on April 9th. I am advertising the 9th since you have all day that Monday. I extended since I did not want to end on Easter Sunday.
I am doing this giveaway a little differently. I did not think it was fair to exclude my fans who lived outside of the USA so I am now giving away cash. I am sure many of you still be happy with this giveaway for a chance to win cash! I know I love entering any cash giveaway, and who doesn't need more cash these days?!!
* Note: I am open to sending you an Amazon gift card through your email if you choose. You can choose either cash sent through Paypal or an Amazon gift card sent online by email. The choice is yours, but just please let me know when I email the winners.
I am giving not one, or two, but THREE (3) prizes! You only win one prize, but now everyone has a better chance of winning one prize. I am so happy I can give away 3 prizes for a total of $50!
The Grand Prize is $25 cash
The Second Prize is $15 cash
The Third and Final prize is $10 cash
Rules are super simple and on the Rafflecopter form, but this giveaway starts today and ends on April 9th 11PM CST. The three winners will be chosen randomly using Random.org and will be emailed asking which prize they want. I think most will want Paypal. Your chances of winning depend on the amount of entries received, and no purchase necessary. Only one entry per household/email and open to everyone world wide 18 and older. Good Luck! Thanks again for following me.
Anything to Add? Leave a Comment!