This post brought to you by Bulbs. Dig, Drop, Done.. All opinions are 100% mine.
Spring is quickly approaching, and I am already planning my spring garden. I love using bulbs as they are super easy to plant. Anyone can dig a hole in the ground, drop in a bulb, cover it back up with dirt, and water. Viola, you are done. Planting is a really fun project you can do with the kids. They learn how plants grow by watching the bulbs grow into beautiful plants or flowers.
I was relieved to find very easy bulbs to plant in my garden at "Bulbs. Dig, Drop, Done" website. This site is very well laid out and easy to navigate so visit www.digdropdone.com to learn more.
While you are there, you will meet three ladies named Marcy, Juliana, and Evelyn. All three have great tips to share with you on these wonderful bulbs and video clips you can watch. Marcy, The Super Mom, is the lady I mostly related to as I am also a mom looking for kid friendly projects.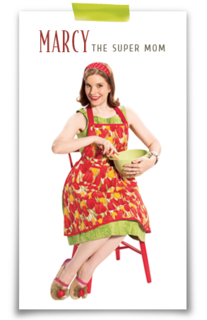 You can do many fun family projects using bulbs to decorate inside the house. Why not use an old watering can as a planter. Just use your imagination or have the kids help you come up with creative planters. Mother's Day is coming up so planting bulbs now would make great gifts for the grandmothers or any mom.
Visit Curbside Chaos to use the Garden Guru Tool located in the bottom left of the screen. This is a very handy tool to pick out the best bulbs to grow in your area.
The first step is to pick your country, and then find your area on the map. You will then click on the colored square that is your planting zone. That will bring you to which month you want the bulbs to bloom. You will see choices based on your selection and mine was for April. I have always loved how pretty Crocus looks. The tool also tells you how to plant that particular bulb. This is a great tool.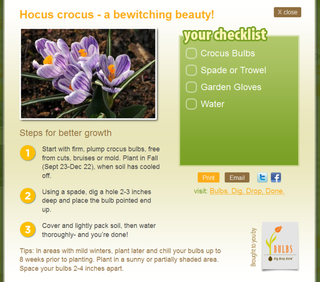 "Bulbs. Dig, Drop, Done" is giving away a $5,000 yard makeover! All you have to do to enter is submit a photo of your yard at CurbsideChaos.com website. Wait, there is more to this great giveaway! The lucky winner will also receive a visit from Taniya Nayak. This is very exciting as I love her show and trust her advice. She will give you creative ways to update your yard, and help you add more bulbs to make your house stand out from your neighbors.
For every share on Twitter, "Bulbs. Dig, Drop, Done" will donate $1.00 to Rebuilding Together. This is a great nonprofit working to make home ownership affordable and revitalizing communities.
Make your yard the envy of the neighborhood with easy and affordable bulbs this year!
Anything to Add? Leave a Comment!