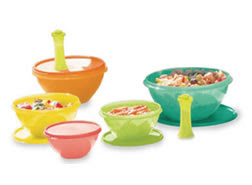 With the holidays coming, who can't use more bowls? My mom sold Tupperware when I was growing up. She still has pieces from over twenty years ago and still going strong. I naturally bought Tupperware as an adult, and I have containers and bowls from ten years ago that still look great. I really believe they make quality bowls and containers that will last for decades. You definitely don't loan out your Tupperware to anyone! I will to my mom but that's it.
I sold it a couple of years ago and amassed quite a collection. One lucky reader will receive a Tupperware Wonderlier 5 piece Bowl set! This set is brand new and still wrapped. I did take it out to show the colors of the set you will win in this giveaway. I'm not asking anyone to go to the website, and I don't have a link to the site either. I just thought it would be fun to do a giveaway and I know many women love Tupperware. It is pricey but it's a great investment and I got mine discounted. I want to share the love with my loyal readers.
THE PRIZE:
The bowl set you will win is a 5 piece Tupperware Wonderlier® Bowl. The colors are different from that set above. Look below to see the actual bowl set. The set includes one of each 2-cup/500 mL,3-cup/700 mL, 4-cup/1 L, 8-cup/2 L and 12-cup/2.8 L bowl. I also have all the lids. This set will not come with the salt and pepper shakers shown above. You will only get the 5 piece bowl set with lids! This bowl set is worth $60.
GIVEAWAY RULES:
This is super simple. Just leave me a comment telling me why you love Tupperware. That's it. This giveaway is only open to US residents 18+ please. Make sure you leave your email in your comment. Only one entry per person or email address please. I am including extra entries so check below. The winner will be pulled by Random dot org.
The giveaway will end on November 30th at 11:59 PM CST! I will need your mailing address to ship the bowls to the lucky winner. It will be shipped priority mail so it will arrive quickly. Again only open to the US. Please no anonymous posters. Thank you. No purchase necessary.
EXTRA ENTRIES:
2 Extra Entriess- Blog about this drawing on your blog linking back to this post. Leave me a comment with the link that I can follow and see it.
1 Extra Entry- Subscribe to my email list located at the top right hand side below header.
1 Extra Entry- Retweet this contest or follow me on Twitter (You can do both but you only get credit for one.)
1 Extra Entry- Follow my page on Facebook or Share on your wall (You can do both but you only get credit for one.)
Thanks again for reading this blog and enjoy the giveaway! Below is a picture of the actual bowl set the lucky winner will receive. Good luck to all who enter.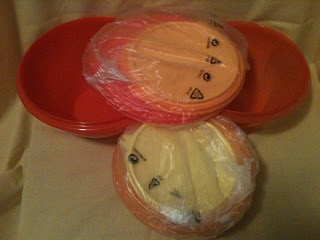 Anything to Add? Leave a Comment!