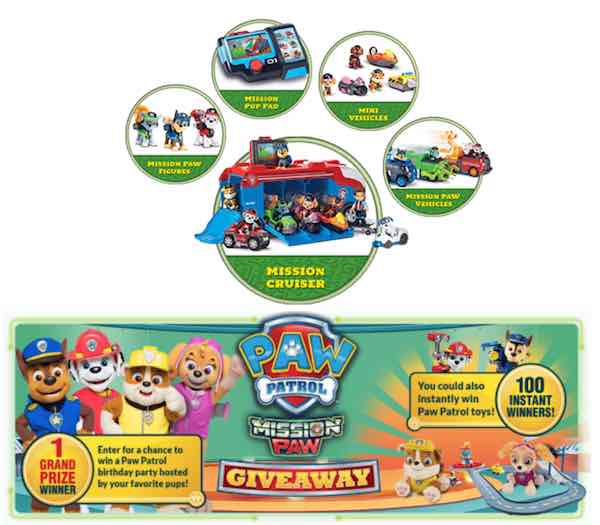 Do your kids love Paw Patrol? Check this out! Enter the SPIN MASTER "MISSION PAW GIVEAWAY" to instantly win a Paw Patrol Roll Patrol Launch 'n Roll Lookout Tower, a Zuma's Lighthouse Rescue, an Action Pack Pups 6pk Bundle, or a Basic Plush 6pk Bundle! Wow! Plus, one grand prize winner will win a Paw Patrol themed birthday party! You will need a code. Your PAW Code can be found inside specially marked 'MISSION PAW' products. To request a Code without purchase, on a 3″ x 5″ card or piece of paper, hand-print your full name, complete address, phone number (with area code), date of birth and email address and mail it to:
"SPIN MASTER "MISSION PAW GIVEAWAY" – Free To Enter Request"
P.O. Box 8546
Big Sandy, TX 75755-8546
You can enter up to 50 times! This fun instant win ends May 31, 2017.
Anything to Add? Leave a Comment!