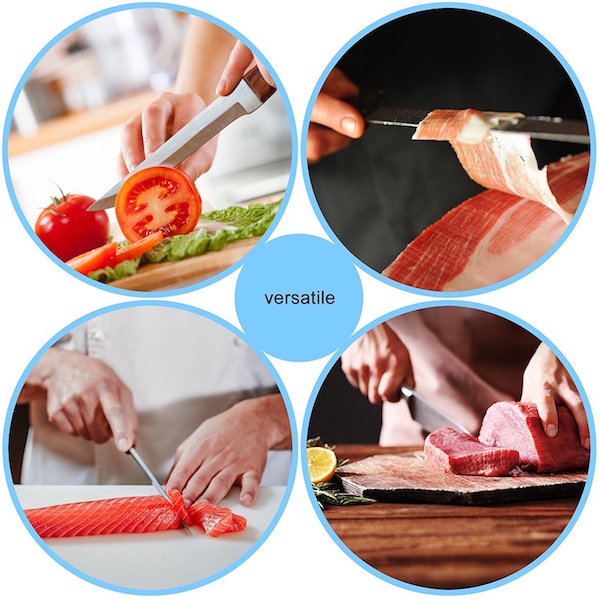 Don't let a dull knife ruin your dinner! Enter for your chance to win this High-End Quality Sharpening Stone Coarse – Fine 600/1000 Grit Combination | Precious Stone for Chef | Knife Chisel Scissor Sharpening Stone! Go now and see if you have won!
►WHAT YOU GET: Double sided sharpening stone + non-slip silicone base + FREE eBook with step by step instructions on how to sharpen your knives, scissors AND wood chisels.

►MULTIPURPOSE: Also referred to as a 'whetstone', is the universal sharpening tool you've been looking for. Not only can be used for knives, cleavers, steak knives, boning knives, shears and butcher knives but to sharpen your chisels, axes, small saws, garden hoes, razors and so much more as well.

►DOUBLE – SIDED: With a grit combination of 600/1000 and dimensions of 7.1′ x 2.4′ x 1.2′ inches, you get double options with one purchase

►SUPERIOR QUALITY : Best waterstone made of corundum, a mineral widely known for its extreme hardness, 2nd hardest after diamond, that makes it an excellent and durable abrasive. Meaning that THIS stone will not give up on you!

►SAFE AND EASY TO USE: No need for expensive oils or unnecessary bamboo base. Save your money. This sharpening stone is best used with water. With your purchase is included a FREE eBook with step by step instructions for sharpening knives, scissors and wood chisel.
Anything to Add? Leave a Comment!