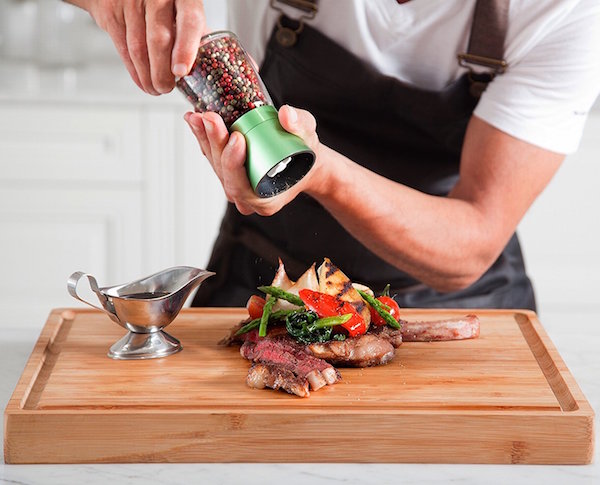 Get the gadgets that professional chefs use in their own kitchen! Get ready to instantly win this BEST Large Bamboo Cutting Board & Serving Tray (17″x13″x1.5″) Thick, End Grain, Professional Butcher Block w/ Juice Groove. Eco Friendly, Antibacterial. Ideal Housewarming & Wedding Gift. By SoulFino!
SIZE MATTERS – When it comes to Cutting Boards, BIGGER & THICKER is Better! Compare our Size to Competing Brands: 17″ x 13″ x 1.5″ and 7 lbs. Thickness is Ideal to Use as a Butcher Block and for Everyday Chopping.

LONGER LASTING – The Only Cutting Board You'll Ever Need to Buy! Bamboo is Lighter than Most Woods, but Extremely HARD, DURABLE & SCRATCH RESISTANT. It's Dense Enough for Safe Chopping, while Soft Enough to Not Cause Knife Damage. Designed for Use by Professional Chefs and Home Cooks.

BYE-BYE BACTERIA – Bamboo is Naturally Non-Porous and Resistant to Bacteria. It's also EASY TO CLEAN! Unlike Wooden Boards, Bamboo Doesn't Absorb Liquids as Easily and Won't Soak in Food Odors or Stains, Making it Less Prone to Cracking and Warping. Toxin Free and FDA Certified for Use with Food.

CHOOSE BAMBOO – Environmentalists Choose Bamboo because it is EARTH FRIENDLY. Unlike Trees, Bamboo Restores Itself within 3 to 5 Years. Unlike Plastic, it is a Biodegradable, Sustainable, Renewable Resource that Needs NO CHEMICALS to Thrive or to be Harvested.

CUSTOMER GUARANTEE – OUR CUSTOMERS PRAISE OUR SERVICE! YOU, the Customer, are Our Top Priority. Read the Honest Reviews for Yourself. Backed by a NO-QUESTIONS-ASKED, 100% Satisfaction Guarantee, SoulFino will Replace Your Product in the Unlikely Event of a Complication. ADD A SET TO YOUR SHOPPING CART Today for a RISK-FREE Culinary Experience!
Anything to Add? Leave a Comment!