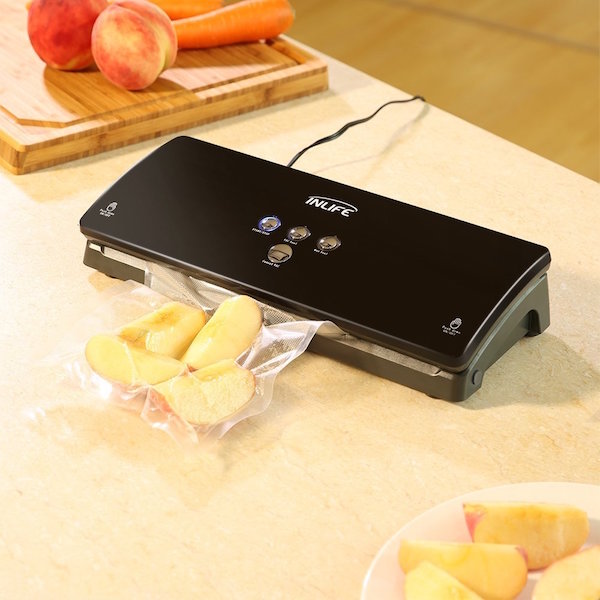 Do you always have meats and food that go bad? Never again once you win this InLife Food vacuum Saver! GO now to see if you are the instant winner! I can't wait! Good luck!
Fresh Preservation: Keeps dry and moist foods fresh, prevents freezer burns on frozen fruits and vegetables, keeps ingredients entirely free from nasty bugs and bacteria and locks nutrients in food to give your families a healthy and nutritious life.

Multifunctional Sealing Modes: Auto full vacuum seal (6-15s), half vacuum seal (the vacuum level is up to you), seal only (10-20s), and air suction. Choose mode depends on your need. Search ASIN: B01KWRX22I can find more vacuum sealer bags for this InLife automatic vacuum sealer.

Easy Operation: Press both ends of the top lid correctly to close it. Choose VAC or Man sealing mode then press star/stop button to initiate vacuuming. Press the Cancel VAC button to make air out after vacuuming finished and then press the buttons on the both side to open the top lid. Besides, Start/stop button can further control the vacuum pressure.

Convenience: High power and seals foods in seconds to keep your foods always fresh, it saves your time in buying foods and organizes space to store foods. In addition, it is extremely light and compact can be hide it in anywhere. Perfect gadget for your kitchen.

1-Year-Warranty, buy with confidence. The Starter Kit includes 10 preservation food saver bags, five 6×10″ and five 10×8″. INLIFE vacuum sealer can be used with canister or tube (NOT included).
Anything to Add? Leave a Comment!