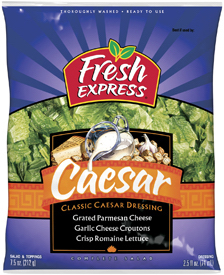 Hey friends, here is another recall notice for you! I love to eat salads, so I am glad I checked! This is for a select few of the Fresh Express Cesar Salad kits! Read here for more information!
Recalled Product Identification Details:
7.6 ounce net weight Fresh Express Caesar Salad Kit
Product Code G163B13A
Use-By Date June 26 (located in the upper right hand corner on the front of the bag)
UPC Code 0 71279 30100 6 (located on the reverse side of the bag by the bar code)
Anything to Add? Leave a Comment!