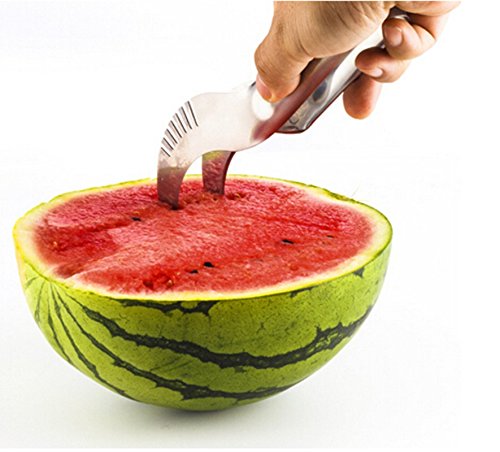 Watermelon Slicer Over 70% off only $3.41 Shipped! Kick summer off with some delicious sliced fruit with this easy to use slicer. No mess or fuss when slicing those melons this summer.
One Reviewers Feedback – "I was so excited to try the Mibia Watermelon Slicer. I find it so hard to cut through the watermelon with a knife because the rind is so tough. This way I only have to cut through the rind once instead of about ten times. After I cut the watermelon in half, I took the slicer and started to cut through the watermelon. After slicing through about twice, I got the hang of it and was able to slice in a straight line. I then inverted the slicer and pulled out a slice to put on the plate. This slicer has made my life easier by making it faster to serve watermelon. I want to Thank You for making a fantastic product and saving my hands."
#1 RATED Mibia Watermelon Slicer, No Mess, No Stress, Neat And Easy With Juicy Slices Of Melon, Fruit Slicer Multi-Purpose Stainless Steel, Smart Kitchen Gadget, Dishwasher Safe Kitchen Tool
Watermelon Slicer Over 70% off only $3.41 Shipped!
Anything to Add? Leave a Comment!