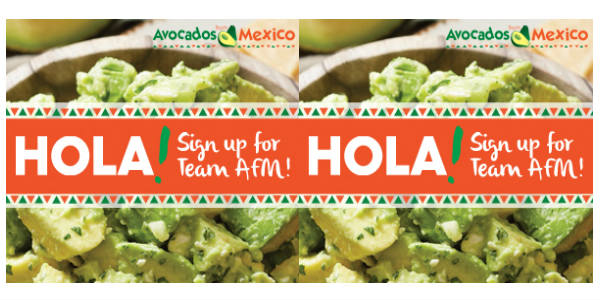 This is a sponsored post that contains affiliate links. 
Win a $200 Gift Card from Avocados from Mexico!
Through 2/13, Avocados from Mexico's "Team AFM" Promotion will be giving out $200 Cash Gift Cards, wohoo! This is due to the Avocados from Mexico Big Game commercial! Be sure to sign in to your with your Twitter or Facebook account. Then share messages to your friends and vote for the Avocados from Mexico spot!
Here are some ways to win: 
1. Twenty (20) users will be randomly selected to win a $200 gift card. To qualify for selection, every 100 points you earn = 1 entry into this selection (20 entries max).
Ways to Earn
1. Share Avocados from Mexico content and news to your social networks and get points for clicks and more. Once you share content, you'll receive 30 points for each click on that content
2. For every friend you get to join, you'll score 100 points
3. Create and share your favorite recipes for 200 points
4. Score 50 points for each additional network you connect including Facebook, Twitter, Instagram and YouTube
5. Much More
Good luck to all of our readers, let us know if anyone wins this contest!
Anything to Add? Leave a Comment!