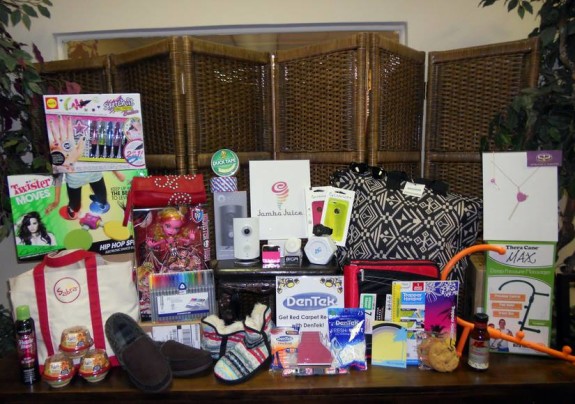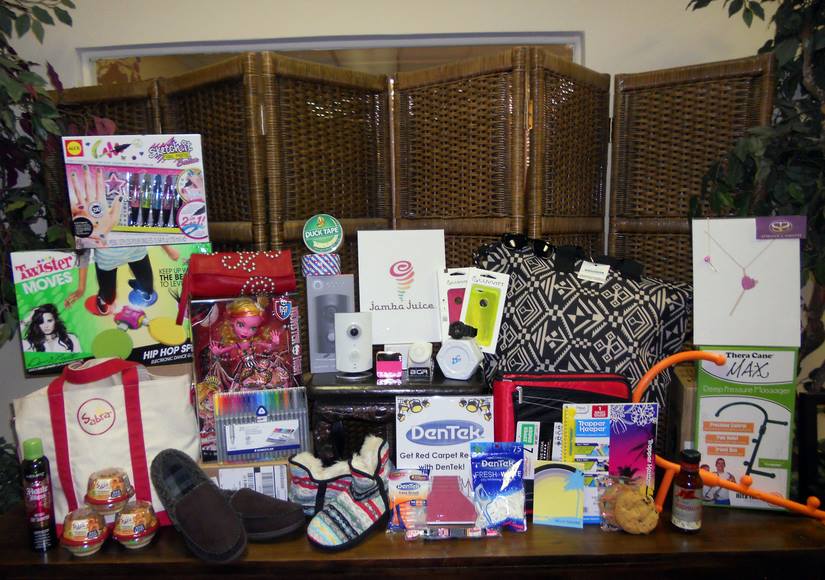 Enter for a chance to win Teen Choice Awards Gift Basket
For USA only and ends on August 28, 2015 at 11:59 PM PST.
Included in this gift basket is:
Dearfoams – Dearfoams' Fall 2015 collection includes a new slipper line designed for tweens and teens. The slippers have bright, bold colors and patterns in a variety of styles, such as moccasins, scuffs and booties. One pair of slippers included in prize.
Jamba Juice – Jamba Juice recently launched a new line of organic, non-GMO, ready-to-drink Cold Pressed Juice Blends that are great-tasting for convenient, on-the-go nutrition. Made with real whole fruit and vegetable juices, Jamba Juice currently offers five flavors including Organic Citrus Breeze™, Organic Orange Reviver™, Organic Cayenne Lemonade™, Organic Mango Limeade™ and Organic Tropical Greens™, with the addition of Organic True Greens™ available in September. $10 gift card included in prize.
MCFADIN – Texas made handbags, luggage and accessories by two sisters, Stacy & Laurie McFadin. Clutch included in prize.
Piper by Icontrol Networks – Piper is an All-in-One Home Security System combining all the intelligence of a traditional alarm system with video monitoring and home automation with no required monthly fees! With Piper's immersive 180-degree camera, wireless accessories, and simple, intuitive mobile app, you can see, hear and know exactly what's happening in your home or office, all thanks to a live video stream sent directly to your mobile device. Prize includes USB drive (no webcam included).
Sabra Dipping Company – Sabra is the producer of America's top selling hummus and a wide range of authentic and delicious dips and spreads, including Salsa, Guacamole and Greek yogurt vegetable dips.
SIS BY SIMONE I. SMITH – Fashion forward quality jewelry that embodies strength, integrity and style.
The BuzzBug – The BuzzBug is your go-to website that gathers celebrity social media posts in one spot. It's the easiest way to keep up to date with all your favorite celebs' Twitter, Instagram, YouTube and more.
Also included:
Alex Toys Sketch it Nail Pen Salon – Alex Toys Sketch it Nail Pen Salon lets girls express their nail art creativity with 5 colors of 2-tip nail pens! The brush applicator and precision tip pen make it easy to create fab, long-lasting nail designs with professional grade nail polish.
Casio Baby-G – No matter what you are doing or wearing, Baby-G will keep you on time and in style! The brand's colorful and functional collections, like the BA110 or BG6903 lines, are perfect for adding a pop of trendsetting appeal to any outfit, while featuring water and shock resistance for any activity this season – running, surfing, skateboarding and more!
HEMPZ – Hempz Haute Mess Invisible Dry Shampoo refreshes your hair without the fuss. Leaves no powder residue, refreshes hair instantly and extends the life of color treated hair.
LUVVITT® ULTRA ARMOR™ Case for iPhone 6 / 6S – The best iPhone 6 / 6S case by LUVVITT® makes a statement with limited edition NEON colors. This radiant case provides a high-end, extremely durable protection while keeping the iPhone 6 light and slim. Prize includes 2 cases.
Otis Spunkmeyer Chocolate Chunk Cookie – Otis Spunkmeyer, a beloved brand since the 1970's, is re-launching in a big way with a new line of snack cakes, muffins and cookies being offered for the first time at grocery, club and convenience stores across the country beginning in early 2016.
TWISTER MOVES HIP HOP SPOTS Game by Hasbro – Dance along with the TWISTER MOVES HIP HOP SPOTS electronic dance game and match your feet to the flashing colors to score. Challenge a friend to a dance-off and keep up with the beats to level up!
ACCO Brands – Five Star® 2" Zipper Binder + Expansion Pocket – Make sure you have what you need for class with this durable binder that stands up to the rough wear and tear of your busy schedule. Expandable pocket on front holds textbooks and the binder's unique strap allows you to carry it like a backpack or messenger bag. Trapper Keeper® Fun in the Sun™ Notebook – The new Fun in the Sun™ line from Trapper Keeper® makes every day feel like a day at the beach.
Bibigo Gochujang – Bibigo Gochujang Sauce is a Korean Hot Sauce that delivers exceptional heat that is sure to add a spicy kick to any of your favorite dishes. Unlike any other traditional Gochujang sauces, Bibigo Gochujang sauce is a ready-to-cook sauce with a flavorful modern twist.
BiGR Audio WristBoom – WRiSTBOOM lets you hear what you want, where you want; it gives you all of this without the constraints of wires, the unbearable weight of a typical speaker and the isolation of wearing headphones or earbuds. Rich, high quality sounds in a very small, wearable speaker… it's kind of hard to believe.
DenTek Oral Care – Get ready during this Teen Choice Awards with DenTek's Fresh & White Floss Picks, Easy Brush Standard and Orabrush to ensure you have the perfect red carpet smile and fresh breath!
Duck Tape® brand duct tape – Available in a trendy assortment of more than 250 colors, designs and licenses, Duck Tape® brand duct tape is the simple solution for your toughest DIY and most creative craft projects.
Invitation Consultants – Invitation Consultants personalized note cards are the perfect way to express your style!
Monster High Gooliope Jellington Doll – Monster High inspires girls to own being different and be proud of it — that's how you BOO! Meet the newest and tallest student at Monster High, Gooliope Jellington, the daughter of the blob, who comes to life as a new 17-inch doll available now..
STAEDTLER-Mars – STAEDTLER triplus fineliner porous point pens are available in 20 brilliant colors. The ergonomic triangular shape allows for relaxed and easy writing.
Stylish Travel Tote from The Container Store – Our stylish Duo Tote makes for a perfect overnight or travel tote that mixes beautifully with black luggage or handbags. Inside its zippered opening, the roomy lined interior includes a wide, zippered pocket for cosmetics, maps or chargers.
Thera Cane MAX Trigger Point Massager – Treat yourself to deep relief from painful, knotted, spasmed muscles. This amazingly simple yet effective self-massager makes it easy to apply pain-relieving deep compression directly to hard, knotted "trigger points" anywhere they occur – breaking up tension even in the hardest-to-reach muscles between your shoulder blades!
Anything to Add? Leave a Comment!