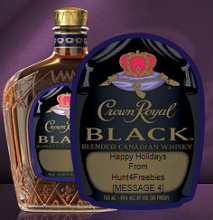 You can request up to 5 labels per month. Crown Royal is also offering a new label which is their Northern Harvest Rye!
To get FREE Crown Royal Gift Labels click where it say's "Crown Royal" labels and create your label.
To get FREE Knob Creek Liquor Bottle Gift Personalized Labels enter your Date of Birth, then click where it say's "create labels". Please note, you must be 21 years or older to request these offers. Allow 4-6 weeks for your label to arrive. Note: Once you create your labels the form will be at the bottom of the page.
Anything to Add? Leave a Comment!