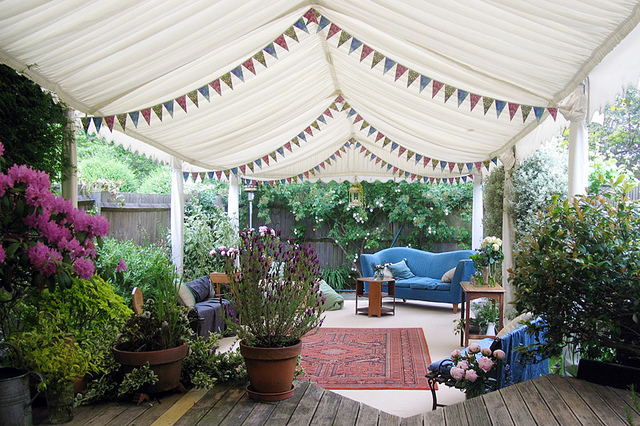 There's nothing quite like a marquee when it comes to creating a celebratory, fun atmosphere in a beautiful outdoor setting. These heavy duty tents come in a variety of sizes and designs, and can be used for events such as weddings, children's parties or for as a simple social gathering place for friends and family.
Marquees don't have to be expensive and if you're looking for a low-cost canopy or gazebo option you have a number of choices depending on your budget.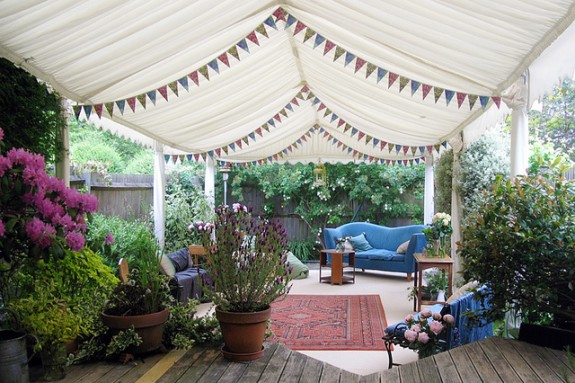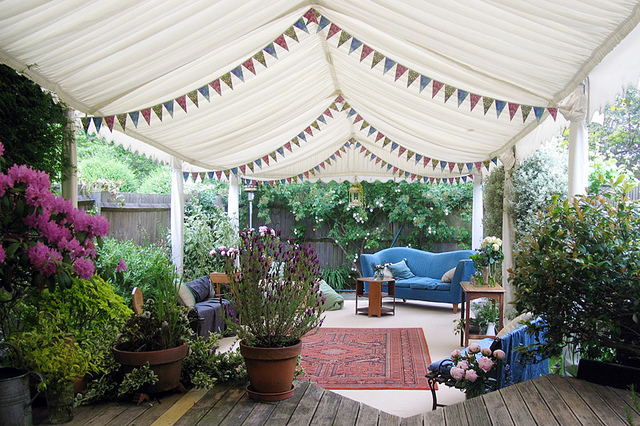 Image by David Higgs, shared under a Creative Commons Licence
The many uses for a marquee
This type of venue option is perfect for those sunny, spring, summer and autumn months, and there's something just that little bit more festive about an outdoors party.
Garden marquees aren't just for parties and weddings, there are plenty of other events that can take place inside a canopy, including family parties and picnics or they can be used as additional spaces on camping vacations or simply to provide shelter around a patio area. These canopies come in all different sizes to suit your needs and can be conveniently folded down and stored away if you're not looking for a permanent garden structure.
Choose your design
A marquee is a lot more than just a simple 'tent in the garden' and today's designs can come with clear plastic windows, durable frames and can be fully sheltered or semi-enclosed.
Pop-up designs are very popular as they take little effort to erect and larger tents do come with added water protection and floor coverings. You can also find gazebos with canvas walls that can be pushed aside to give an open-curtain effect and this is great for those hot days. A range of colors is available including the popular white for weddings as well as green, purple, natural sand and black.
Budget, standard and luxury
The type of structure will make a difference to the price – for instance a simple freestanding garden canopy is great for providing some shelter over your patio furniture and this is a very inexpensive option.
Luxury marquees for larger events and parties can hold over 100 people and these do come with windows, heavy-waterproof canopies and powder-coated frames, and the quality will be reflected in the price. The amount you pay will depend on the size you require (standing capacities usually start at around 18 people and progress upwards) but the smaller party tents are very inexpensive and a gazebo will cost even less.
Garden centers and auction websites are good places to search and compare marquees and you'll find that prices aren't hugely expensive; there's also the option to purchase a second-hand unit if you wish. If the event is to be a one-off then you can always considering hiring for the day or weekend and this can be a financially cost-effective option to suit your budget.
Anything to Add? Leave a Comment!