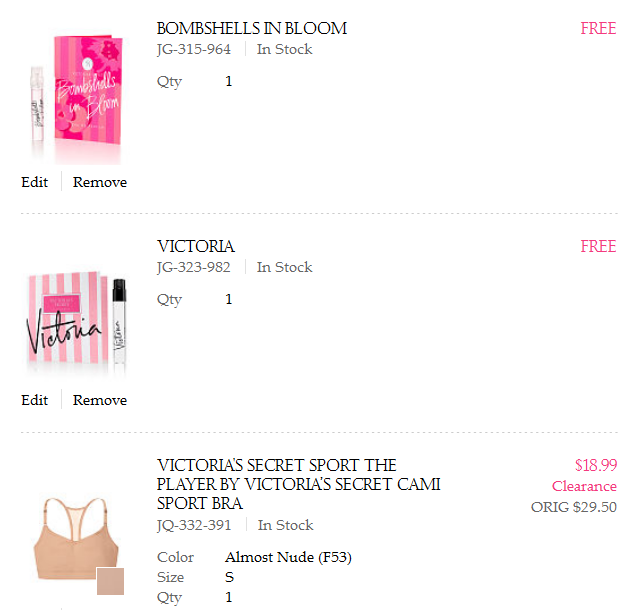 Victoria's Secret has a HOT DEAL right now! Take a Fit Bra Quiz and get a Pin to use at checkout. Buy a VS bra (check the clearance) and get 2 FREE Perfume Samples plus FREE Shipping! I spent $18.99 plus tax but got FREE Shipping!
Then spend $10 or more at Victoria's Secret and you get a $10 Secret Rewards card to use! This can be used on December 4th thru the 19th! You are guaranteed $10 but could be as much as $500 on the card! WOW!
WAIT! I have a code so you can get 2 FREE Secret Rewards Cards! You get your $20 back and you can use them later either online or at the store like gift card! This would make great Christmas presents!
HERE IS HOW:
LOG INTO your Victoria's Secret Account (or create a new account
Take the PERFECT FIT BRA QUIZ so you can get a unique pin to use with the code BRAFIT (make sure you say you are in need of a new bra)
You can buy any bra but I would head to the clearance bras because they are priced at $16.99 to $19.99
At checkout Enter Code: BRAFIT along with the pin (you got it when you took the survey) and SECRETBONUS at checkout.
You will pay around $16.99 + TAX. Shipping is FREE and you get 2 FREE perfume samples. Don't forget you also get 2 Victorias Secret Rewards Card with AT LEAST $10 on each!
Anything to Add? Leave a Comment!