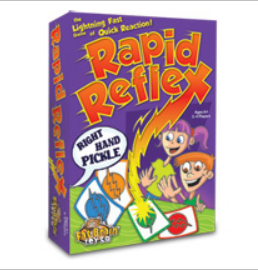 Enter for a chance to win FREE Rapid Reflex Game Friday at Fat Brain Toys!
MOBILE/TABLET Users copy/paste this link into your browser: https://apps.facebook.com/freetoys/
A seriously slappy game of super speedy response. Right hand pickle! Quicker than a flash – your right hand flies to the green card on the table. You lucky thing. You were first to make the mental connection and slap the green card, so you get to keep the green pickle card. 32 Brilliant Object Reflex Cards. 80 Action Color Cards.
Just fill out the short form to enter!
You must be 21 years old and GOOD LUCK!
Anything to Add? Leave a Comment!