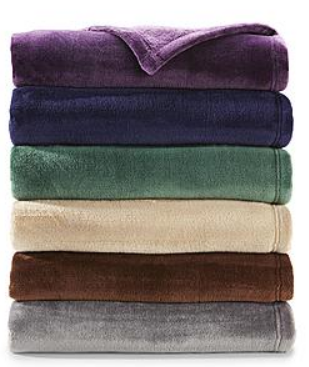 You can get FREE Cannon Velvet Plush Throw after TopCashback offer!
CLICK HERE and Follow Me and Sign up FOR FREE Shop Your Way Program
Then Head over to TopCashBack.com and create a NEW account and click on the orange GET CASHBACK NOW button!
Once you are redirected to Kmart.com then search for Cannon Velvet Plush Throw and it will be priced at $10.99
You pay for the throw now and will get $14 cash back in your topcashback account within 60-90 days. **This is for new TopCashBack members only**
NEW TOPCASHBACK MEMBERS special! Brrrrrrrrrrrr! Grab a free Cannon velvet plush throw priced at $10.99 with $14.00 cashback, shipped free with ShopYourWay Rewards MAX. Visit Kmart through TopCashback, purchase a Cannon velvet plush throw priced at $10.99 and within seven days $14.00 cashback will have posted in your TopCashback account. There are six colors to choose ONE from: green, purple, tan, grey, chocolate and navy. The $14.00 should cover the cost of the product and any sales tax you may possibly be charged, effectively making the item a squeaky clean freebie! Within 60-90 days the $14.00 should turn payable and can be credited straight to your checking or PayPal account.
NOTE: Transactions must only contain a Cannon velvet plush throw priced at $10.99 to ensure $14.00 cashback is credited to TopCashback accounts. If another item is purchased or additional items are purchased at the same time, the cashback amount awarded will be 7% or less (depending on the item(s) purchased) instead of $14.00.
Anything to Add? Leave a Comment!