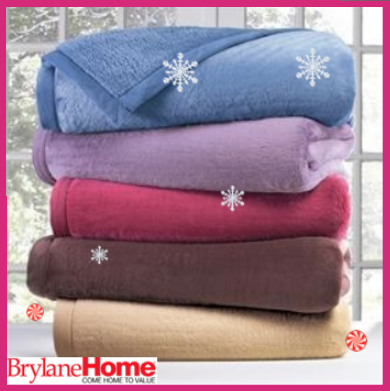 Holiday Decor Giveaway
Nov 22, 2013
Open to US
Will Last Only for 6 Hours – 6pm to 12 Midnight, Eastern Time

Winter is approaching and many cold nights. How great would this soft blanket be during the winter months. It will help to keep you and your family snug as a bug in a rug or blanket!
We are looking for those warm moments spent together with our family during the cold months of the year, wrapped in their love and care, and the fleece of a soft indulgence blanket!
Bringing You Moments To Celebrate
Sponsored by BryalneHome
Organized by Celebrate Woman Today
Designed with two different textures, this colorful blanket would be a great addition to your cuddle time or even sleeping time. Soft and luscious, this could be a precious gift to yourself or someone on your Holiday List. You do have a list, yes?
Without any doubt, this soft indulgence blanket would serve you well and warm your soul with its warm fuzziness, evoking the memories that would be elixir on your soul during long cold days and nights.
One of you would walk away with one of these blankets as a prize in this super quick flash giveaway.
Prize – Soft Indulgence Blanket In Your Choice of Color

Anything to Add? Leave a Comment!