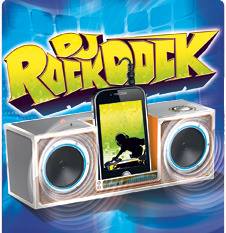 Enter for a chance to win a Smartlab Toys Trivia Wednesday DJ Rock Dock Speaker Building Kit!
TWO WINNERS will receive the award-winning DJ Rock Dock Speaker Building Kit! Build a speaker dock for your iPod®, iPhone® or other audio device. Features an audio plug, speakers, pre-printed foldable paper housings, and circuit board. Twist wires together to build the speaker set — no tools required. Kids learn basic electronics by investigating how speakers and amplification work.
Just answer the trivia question and you are entered! Good Luck!
Ends tonight July 31st at 11:59PM PST!
Anything to Add? Leave a Comment!