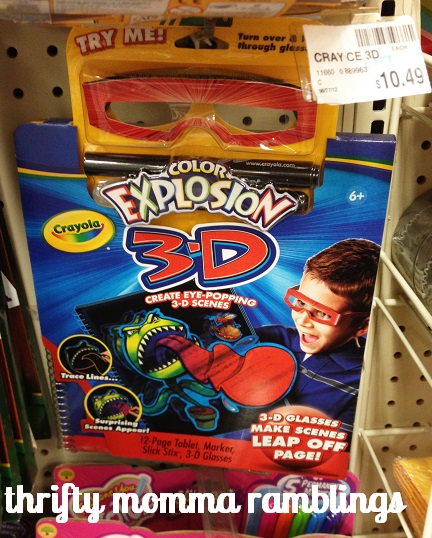 Remember the CVS deal I promised you that I discovered yesterday?
This is probably regional BUT check your CVS to see if you can find the Crayola Color Explosion 3D on clearance for $2.62!
I also found Spongebob Squarepants & Metallic Robot sets for $1.94 each AND Crayola Wonder Tinkerbell for $3.12!
These were NOT marked on clearance at my 2 stores! My son just happened to be scanning some stuff (looking to buy toys) and saw the cheap price.
I know it's WILD! EVEN better there is a $3 ECB when you buy $10 worth of Crayola for July!
I bought 2 Color Explosion Sets for $2.62 x2= $5.24
Color Wonder Fairies- $3.12
1 Spongebob and 1 Metallic Robot- $1.94 x2= $3.88
Subtotal- $12.24 -& Received $3 ECB
Final Price- $9.24 which makes each item $1.85!!! WOW! Great deal!
Let me know if you find any of them on clearance at your CVS! Great to stock up on for Christmas!
Anything to Add? Leave a Comment!