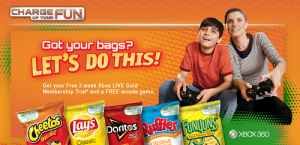 You can get a FREE 2 Week X-Box Live Gold TRIAL & Game when you use these 2 codes!
Code 1: 492105215 with time stamp 18:08
Code 2: 565105326 with time stamp 12:05
Just use these 2 codes and enter your info and expires on 3/31/13 and your game choice is Toy Soldiers and the Maw.
OR you can get your own code on specially marked Frito Lay Big Grab bags only sold at Walmart!
Frito Lay Promotion – 2 Week XBL GOLD Trial and 2 XBLA games (Toy Soldiers & The Maw)
On specially marked bags, formally called "Big Grab", of Frito Lay (Lays, Fritos, Ruffles, Cheetos, Funions) products @ Wal-Mart for $1.28 each found at the checkout aisle there are codes that you can redeem on chargeupyourfun.com to get a 2 week Xbox LIVE Gold Subscription Trial and a FREE XBLA Game (Toy Soldiers or The Maw). For Toy Soldiers, it's the first released game and NOT the 80's themed sequel. The promotion runs from March 1-31, 2013 with the codes needing to be redeemed by April 7, 2013.
*The gold trial is only for SILVER "Free" Gamertags and cannot be redeemed if you already have GOLD. Stated that only 1 trial per gamertag.
Anything to Add? Leave a Comment!