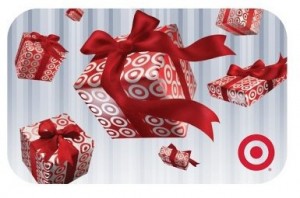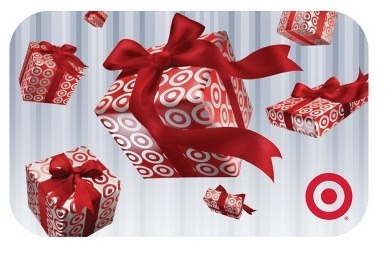 Do you have a smart phone? Then get a FREE $2 Target Gift Card for being a Shopkick user!
I just joined myself and earned 50 bonus points plus my $2 Target Gift Card!
Basically it's a reward program that gives you points for shopping! Anytime you are in a store on the app like Target, Best Buy, Old Navy, and others you can check in from your phone to earn points. You can earn more by scanning certain products or other fun things!
Even better you can redeem for Target Gift cards or Starbucks and more!
It's a free Andriod or iphone app that you can download to either smart phone.
1. First Join Shopkick for FREE by Clicking HERE! Make sure to use your MOBILE number.
2. Download the TARGET app on your phone which is FREE and again either iphone or Android. OR Wait for the text message and then download from the link.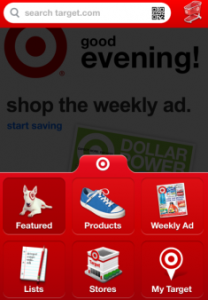 Already have Shopkick then you can still get the $2 Target Gift Card Bonus Here
3. Once you have downloaded the target app, click on the "featured" button like in the picture above.
4. Scroll down until you see the $2 shopkick offer like the one below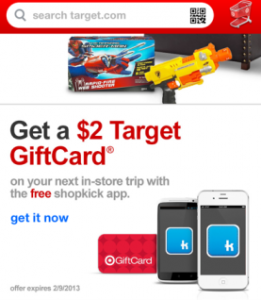 After doing so, a new link will open and you will need to state whether you have a Shopkick account or not.
Lastly you will then be asked to submit the phone number that is linked to your Shopkick account. The gift card offer will be added to the "My Stuff" section of your Shopkick app. You will score your FREE $2 Target gift card on your next Walk-in to Target. You have 29 days to redeem!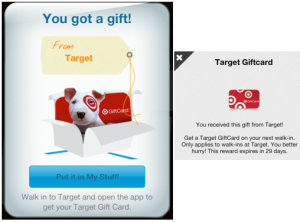 Anything to Add? Leave a Comment!