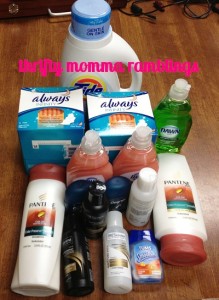 I am a little late with this but here is my CVS shopping haul from Friday 10/04/13!!
I paid $3.57 with tax for $31.59 of items after coupons and ECB's plus I received another $10 ECB back!
I bought Pantene 2/$7
Tide- $5.94
Dawn Dish liquid- $0.99 cents x4= $3.96
Always Infinity- $3.99 x2=$7.98
Degree trial deodorant- $1.27×2= $2.54
Treseemme trial- $0.99 x2- $1.98
Tums travel size- $2.19
Subtotal- $31.59
Ok I already had $18.xx towards the $30 P&G deal for my $10 ECB
I had some great store coupons and manufacturer coupons to use which saved me another $14.50
I used my $15 ECB quarterly reward.
Final Price- $2.09 plus tax for a grand total of $3.57!!!
I received my $10 ECB! So really made $8 to buy all this stuff! That was a savings of over 90% (more like 93.5%)!!!
Anything to Add? Leave a Comment!