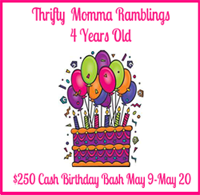 First I want to thank all you wonderful people for visiting my blog, commenting, and following my fan page on Facebook! I really appreciate all of you. I surpassed 5,000 fans on my facebook page and over 2,000 twitter followers! I received over 20,000 entries in the giveaway! It was a big success and thank you to all the bloggers who joined me to help me celebrate Thrifty Momma Ramblings 4th Birthday! I am looking forward to blogging for many more. If you have started reading my blog when I started in 2008, you did notice I took a leave of absence. I have discussed it in the past, but my son had major trouble at school so of course he comes first. I did miss writing and sharing my deals.
I came back last year more committed than ever to grow this blog and help you to save money! I love sharing my great deals and helping others. I have big plans for the blog over the summer! I promise to get tutorials on how to coupon, CVS, Walgreens, using a coupon database, making a coupon binder and more! I also want to start doing videos so you can see what I'm doing and how I shop. Keep watching. I have some more great giveaways coming in June like a chance for $500 CASH and a Kindle Fire!!!!
All the winners have been emailed and received their prizes. The winners for Thrifty Momma Ramblings $250 Cash Bash giveaway are listed in order:
$100 Cash Winner- Amber
$75 Cash Winner- Katie
$50 Cash Winner- Kaylie
$25 Cash Winner- Geoff
Congratulations! I have several giveaways listed right now so check them out if you haven't entered. I have more coming next week.
Anything to Add? Leave a Comment!