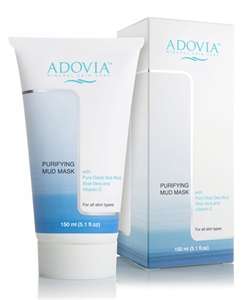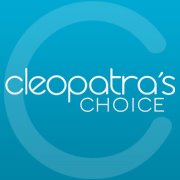 I love to use new facial products. Even close to 40, I still have problems with breakouts and oily skin. It's more of a combination skin with dry cheeks but the oily T-Zone. I also love to use products that are more natural and with quality ingredients. I was thrilled when Cleopatra's Choice contacted me asking if I would like to review the Adovia Purifying Dead Sea Mud Mask! Below is exactly what I received.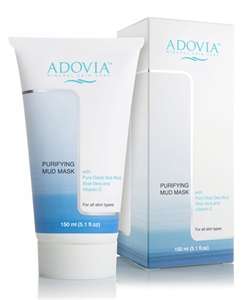 First I have to say that I love the fact that it is made with mud extracted from the Dead Sea, which is known to have minerals that is great for your skin. I was also impressed by the other ingredients such as: Bee's wax, Jojoba, Evening Primrose, Olive oils plus Vitamin A and C. Yes olive oil is great for skin as it is moisturizing and will not cause breakouts.
Here is a closeup of what it looks like on your skin.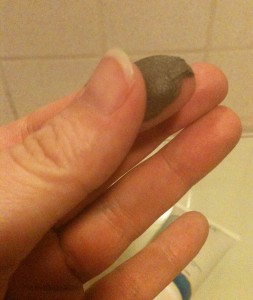 I felt it went on very smoothly, and I wore it for 20 minutes per instructions. You can keep it on 15-20 minutes, but I felt I needed the extra 5 minutes. Many mud masks I have used in the past, start to tighten and feel dry after wearing for a few minutes, but this never did once! I had almost forgot I was wearing it. It is a little messy when rinsing it off, so next time I will just jump into the shower. It did leave my sink dirty so I had to clean it out after I was finished. I know all mud masks will do this so not a complaint about the product.
I have to say my skin felt so smooth and soft after I washed it all off. My skin didn't feel tight or dry either. It felt fantastic and clean. I absolutely love this product! My moisturizer just glided onto my skin. Even better was the next morning I could see several of the blemishes were almost gone. It even helped even out the skin tone in my cheek area. I do recommend this mud mask. I also love that it's great for ALL skin types! I have also used it just on any new blemishes I get. It's my new weekly regimen and I love to pamper myself as it does help me unwind and relax.
GIVEAWAY!!!
Cleopatra's Choice was extremely generous in letting me host a giveaway!!!
So one lucky reader will receive a gift pack with (1) Adovia Purifying Dead Sea Mud Mask; (2) Adovia Mud Mask Bars of Soap; (1) Shea Butter; and (1) Argan oil package!
This is well over a $50 value!
I didn't have a picture to show the Shea Butter or Argan Oil package but you will receive it with the picture below!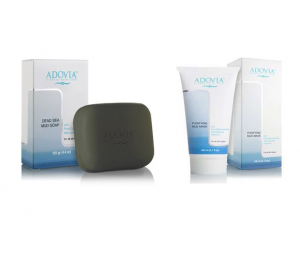 Click here to enter the rafflecopter below! Good Luck!
Disclosure: I did receive a free Adovia Purifying Dead Sea Mud Mask in order to review the product. All opinions are 100% mine and I am not being compensated in other manner. Thrifty Momma Ramblings is not responsible for the shipment of prize and will come from Cleopatra's Choice. Must be 18+ and for residents of the USA only! Winner will be drawn and have 48 hours to confirm prize, otherwise they forfeit and a new winner will be drawn. Giveaway ends on 8/31/12 at 11:59PM EST!