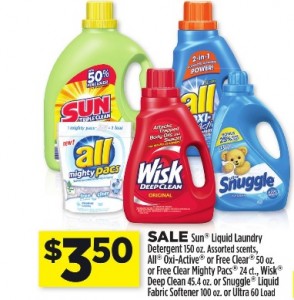 HOT! All or Wisk Laundry Detergent is on sale for $3.50 at Dollar General this week thru Saturday (4/20)
You can get either the All liquid or 24pk Pac or Wisk liquid and several more like Snuggles liquid fabric softener (that is only a 50¢ off coupon).
So print out these coupons and get them for only $2.50 each!!! I know I am going to stock up!!!
Print this $1 off Any All Detergent Coupon on Facebook
Print this $1 off ANY Wisk Detergent Coupon on Facebook
You can also use this on from the paper $2/2 All Liquid, Powder or Mighty Pacs, exp. 4/21/13 (RP 03/10/13)
$1/1 Wisk Laundry Detergent, exp. 5/5/13 (RP 03/24/13 R)