The Country Blueberry Candle is what my winner will receive!
I can't guarantee which necklace you find hidden inside, but remember X marks the spot for your hidden treasure! If you find the treasure chest, then it will contain a code to either a New iPad 3, a Le Vian Necklace worth $1,000 or, a Tiffany and Co. Pendant worth $5,000!!!
I hope you are the lucky winner, but regardless you will receive a beautiful gold plated or silver plated necklace! Here is the necklace I found in my candle!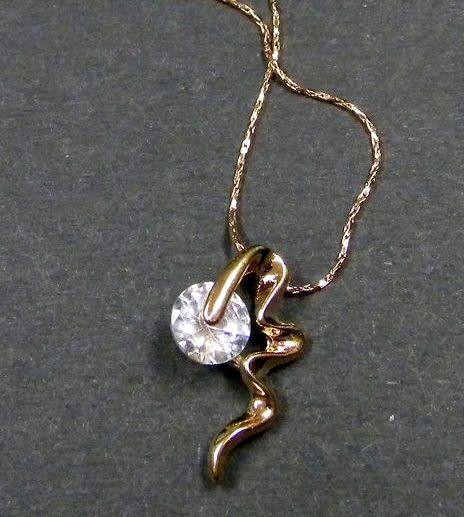 If you want to learn more about the candles then be sure to read my review here to learn more about these wonderful all natural soy candles!
NOW ON THE GIVEAWAY!!!
Thrifty Momma Ramblings has teamed up with the following bloggers to bring you this MASSIVE giveaway for Hidden Treasure Candles!
Please visit each one to see which scent they are giving away.
I Love My Kids; Chant3llo's Blog; Give Oh Giveaway; Koupon Krazed; Acadiana's Thrifty Mom; A Day in Motherhood; Donna's Deals and More; Oh My Gosh Beck; BB Product Reviews
The best part is there will be 10 winners! YES, you read that correctly! Each blogger has a Hidden Treasure Candle to give one lucky winner for a total of 10 winners!
 Thrifty Momma Ramblings winner will receive a Blueberry Hidden Treasure Candle! Yummy!
*Disclaimer: Each blogger received a FREE candle from Hidden Treasure Candles to review the product. The views expressed in this review are mine and mine alone. Each individual blogger will be responsible for sending their winner a candle.
Enter using the Rafflecopter form located below. Giveaway Ends on July 13th at 11:59PM EST!
There are only 10 blogs listed on the facebook and twitter like pages so very easy and quick. This is only open to United States residents only age 18 and older! Check the Rafflecopter form for all the rules! Good Luck!
This post may contain affiliate/referral links.