Disclaimer: Tropical Traditions provided me with a free sample of this product to review, and I was under no obligation to review it if I so chose. Nor was I under any obligation to write a positive review or sponsor a product giveaway in return for the free product.
I first discovered coconut oil, a couple of years ago, when I first started my weight loss journey. It has a nice taste and I like to mix in a tablespoon into my morning coffee which tastes better than using cream. I was thrilled to receive a free sample of Tropical Traditions Coconut Oil. It has a superior taste to many of the other brands I have tried. The coconut taste isn't as strong to me and has a nicer texture. I couldn't wait to make a batch of popcorn using Tropical Traditions Home Page .
I also learned that coconut oil has a high smoke point which makes it a great oil to use for high temperatures like frying. It is also a great oil to use in my popcorn maker. I like no I LOVE to eat popcorn, and I found a great popcorn called Black Jewel popcorn. It pops into fluffy white kernels and is very tender. It is a new favorite of mine. I began using coconut oil to make my popcorn. It tastes better than using other oils and even butter. It is not greasy but has a nice pleasant flavor. You don't even taste the coconut at all.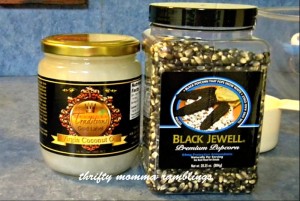 I have a popcorn machine that turns the popcorn in a circle. First I put 2 tbs (tablespoons) of coconut oil in the machine and let it heat up for a few seconds. Then I pour 1 cup of popcorn and put the lid on. Look at the finished product below. It tastes as good as it looks.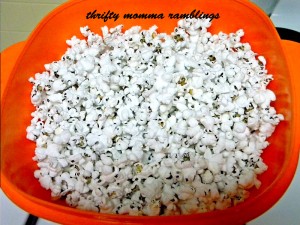 If you want to learn more about all of the wonderful uses then visit the Gold Label Virgin Coconut Oil page.
I also like to use coconut oil on my lips and on my feet. It keeps my skin feeling so soft. My other favorite beauty tip is to use coconut oil as a deep conditioner for my hair. I put some all over my hair (while it is dry) and then put on a shower cap for 20-30 minutes. Take a shower and wash it out with your favorite shampoo. You will not need a conditioner afterwards. I have thick and slightly coarse and wavy hair and I never need to put in conditioner afterwards. It keeps my hair soft and silky for a few days. I do this treatment about once to twice a month.
How to Use Coconut Oil: There are hundreds of uses!
I am hosting a giveaway on Thrifty Momma Ramblings blog and you can enter for a chance to win a 32 oz (quart size) glass  jar of Tropical Traditions Gold Label Virgin Coconut Oil and this is a $40 retail value! All the information is on the Rafflecopter, but it is only opened to residents of the US and Canada only. Tropical Traditions will mail the lucky winner the coconut oil. They pack it very well. Your information will not be sold and only used to mail your prize. Good Luck!