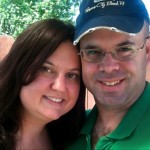 I am excited to participate in the Ultimate Blog Party 2012 as this is my first year. I will introduce myself so you can learn a little more about me and Thrifty Momma Ramblings. My name is Bonnie and I created the blog in May 2008 so I am coming up on my 4 year blogiversary. If this isn't already a word then I made it up. This is me and hubby from last April.
I am a stay-at-home who recently went back to college to finish up my Associate Degree in General Studies. I only had a year left and I always regretted not finishing. I am enjoying it so much that after I graduate next month, I am going back in August to work my Bachelor Degree in General Studies with a minor in English and Marketing. All of the classes I am taking are helping me take my blog to the next level.
I have discovered my passion for writing and social media. I love to talk, hence the Ramblings in my blog name, and I love to share thrifty deals and frugal living tips I find. We have basically lived off my husband's income for the last 12 years so I had to learn a lot about saving money and cutting back expenses. More and more friends and family were impressed with how well we were living off my husband's small income.
I was sharing coupon tips on other forums before I discovered blogs. I never thought of myself as a writer after quitting an Ebay business I had for 8 years. I decided to just jump in and do it. I love it! It gives me a creative outlet to reach out to other moms and people. I have met so many wonderful people already, and I'm really looking forward to meeting more.
The best part for me is I am doing something I love! I love being able to do product reviews and hosting great giveaways. I get to share my great finds and hot deals with my readers. I do not think of it as work since I really enjoy what I am doing and having so much fun meeting with other people who love to save money. It started out as a necessity as I was determined to stay at home with my son, but I was able to turn it into a wonderful resource for myself and others. I have learned so much from everyone and looking forward to learning more.
Please join me and let's Party like it's 2099! We already passed 1999.
Of course I have to show a picture of my wonderful son who is now a pre-teen! ACK! When did this happen?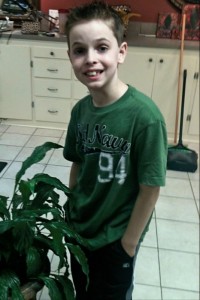 This post may contain affiliate/referral links.